Hello Parents! Class assignments will go in the mail this Friday(8/11). Looking forward to the start of a great year!



Little Rams Youth Basketball Practices have been cancelled for Wednesday, 2/22/23.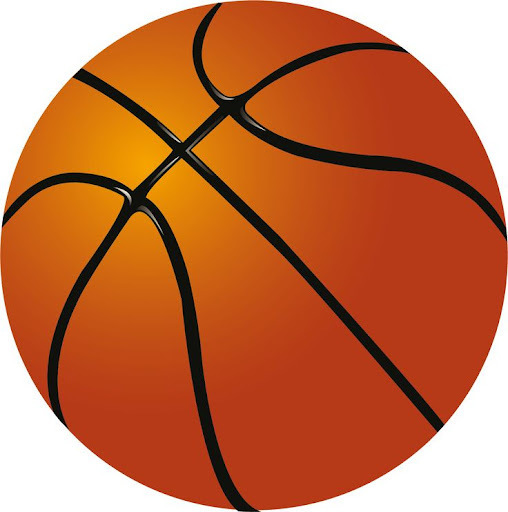 South Haven Mini-Cheer Youth Program has been cancelled for Wednesday, 2/22/23.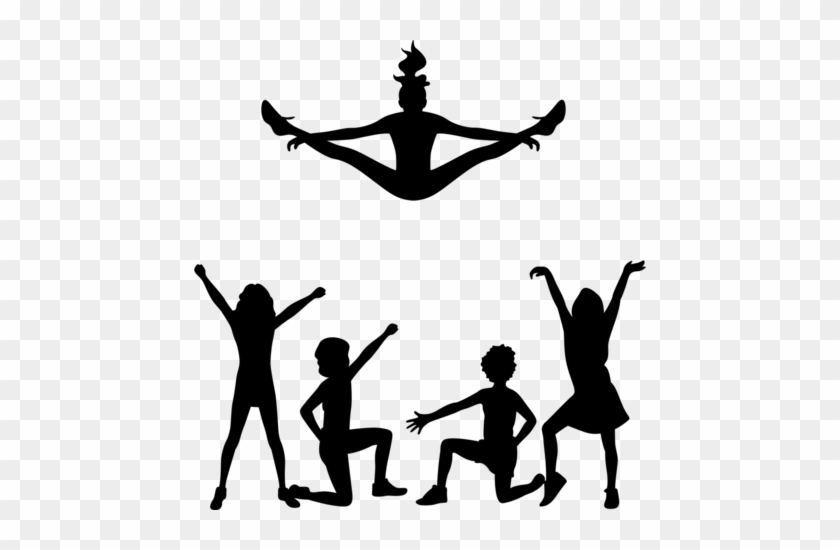 Just a reminder that Early Bird JYL Sign-ups end February 17. For more information, see the attached flyer or go to JYL's website at:
https://www.southhavenjyl.com/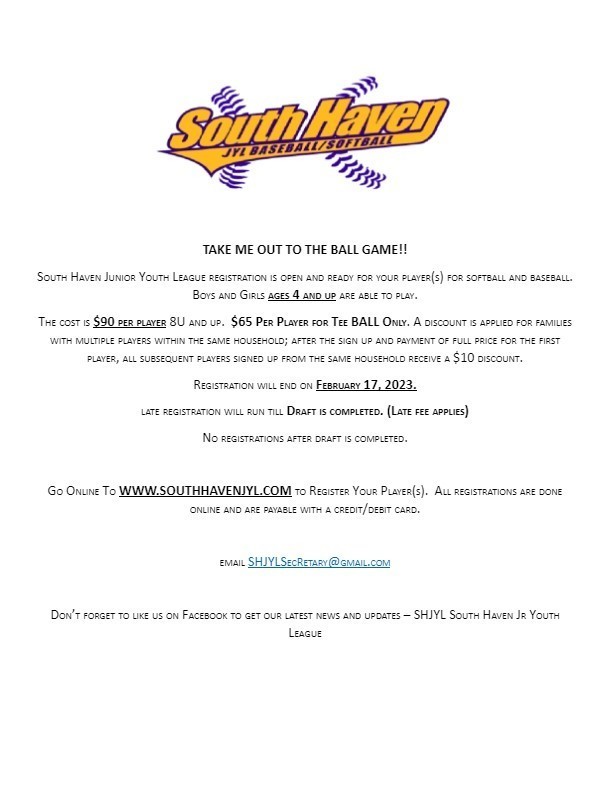 REMINDER: Today, Wednesday 12/7, is the second signup day for the Boys Little Rams Basketball Program. Registration will be held in the HS Cafeteria from 5:00 - 6:30 pm. The program is available to boys in K - 5th grade. Cost is $50.00 per player. Any questions can be directed to Chad Kerr at
chad.kerr24@outlook.com
.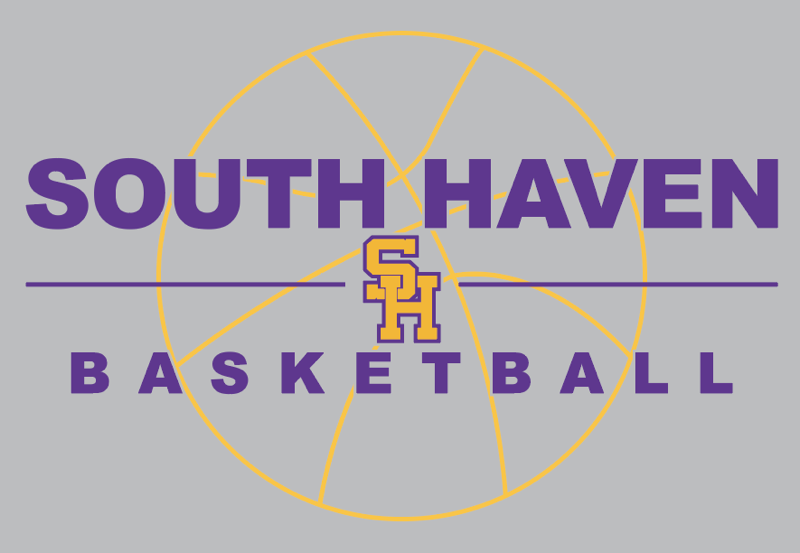 Signups for Little Rams Boys Youth Basketball Program will be Tuesday and Wednesday (12/6 & 12/7) from 5:00 - 6:30 pm in the high school cafeteria. The program is available to boys in Kindergarten thru 5th grade. Cost is $50.00 per player, cash or check only. Checks should be made out to South Haven Athletics. Any questions can be directed to Chad Kerr at
chad.kerr24@outlook.com
. Practice will begin the week of 1/9. There will be six scheduled game weeks with games running on Saturday. We will need volunteer coaches. Volunteers should know the basics of coaching basketball and will be subject to a background check. Please let us know when you come to sign you player up.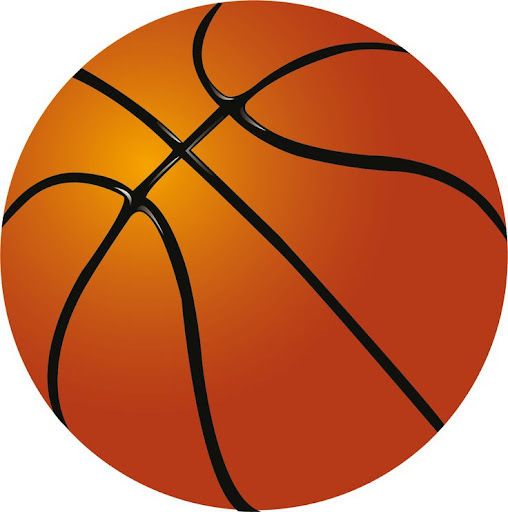 North Shore Families-Halloween is right around the corner! Please see below for specific guidance regarding the upcoming event. We are looking forward to a fun day! Halloween-Monday, October 31, after related arts. This is meant to be a fun day. You may dress up for the day or dress up just for your class party. Make sure that your costume is appropriate for school and satisfies the following guidelines: • Costumes may not have parts that interfere with learning, restrict movement or vision, prevent students from sitting at desks or participating in all normal activities throughout the day. You must be able to sit, walk, breathe, see and hear. • Costumes may not have accessories or props that could be used as a weapon or looks like a weapon(toy guns/knives/swords). • Masks are not permitted during the day, but may be worn during class party. • Make-up or face-paints are permitted, but must be applied prior to coming to school. • Appropriate shoes/footwear must be worn throughout the day. • Costumes cannot promote use of drugs, alcohol or weapons of any kind. Parents are permitted to join the class for the parties starting at 2:20. They must check in at the front door and obtain a name tag.

Dear South Haven Community, In an effort to make sure that young students are not left at the football game unsupervised, and to avoid blocking traffic at the front gate of Ratcliffe, we have made a few minor changes to the logistics of this Friday's (10/7) Homecoming Parade. The parade will begin downtown in the public parking area near the intersection of Kalamazoo and Huron Streets (in front of Black River Books). Participants should begin lining up at 5:15 pm. The parade will begin at 5:30 pm. The parade will finish on Prospect Street outside of Ratcliffe Field, across the street from Hartman Historical Society Building, at approximately 5:50 pm. South Haven Police will temporarily close down Prospect Street to allow vehicles to unload their participants and disperse. Parents should pick up their students from Prospect when the parade is finished, and anyone planning on going to the game may enter through the front gate. Admission for the game is $5 per adult and $1 for students. Unaccompanied students will not be allowed admission without a parent or other supervising adult. Thank you.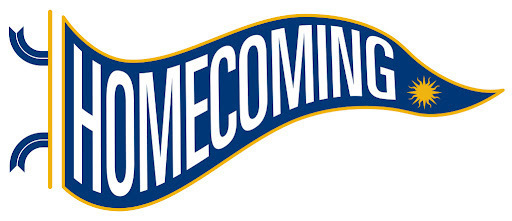 SIGNUP INFORMATION FOR LITTLE RAMS GIRLS BASKETBALL: The program is available to girls in K thru 5th grade. Sign-ups will be held in the South Haven High School Cafeteria on Monday, October 10 and Thursday, October 13 from from 5:00 - 6:30 pm. THERE WILL BE NO LATE SIGN UPS!!!!!! Cost is $50.00 per player, cash or check only. For more information go to:
https://www.shps.org/o/athletics/article/855558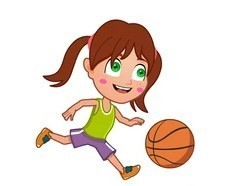 Week of 10/3-Busy Week! Spirit Week! Tuesday, 10/4-Picture Day Wednesday, 10/5-Student Count Day and Walk/Jog-a-Thon
No School on Friday, September 30. Enjoy a long weekend with your kids!
Parent Band Meeting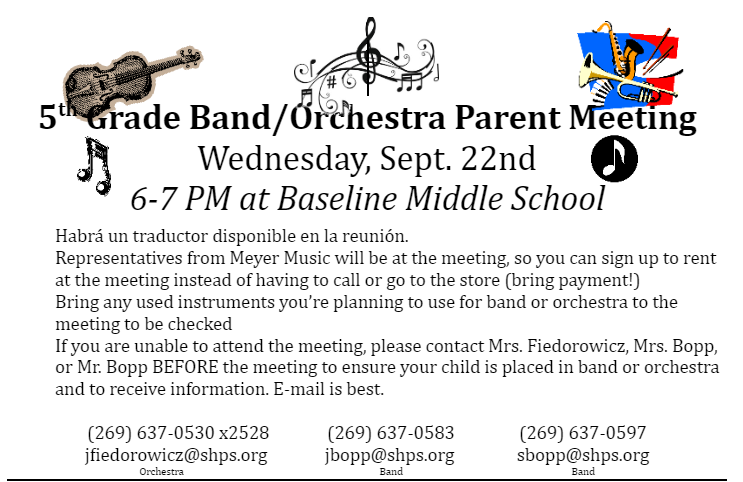 Friday, 9/16-Spirit Day at North Shore. Students can dress up in Purple and Gold! We will also have popcorn for the students on this day! Go Rams!!

Reminder - we can't wait to see you and your student tonight at Open House! Please contact your student's building office with any questions. August 25, 2022 4:30 - 6:00 PM Located: Your child's school building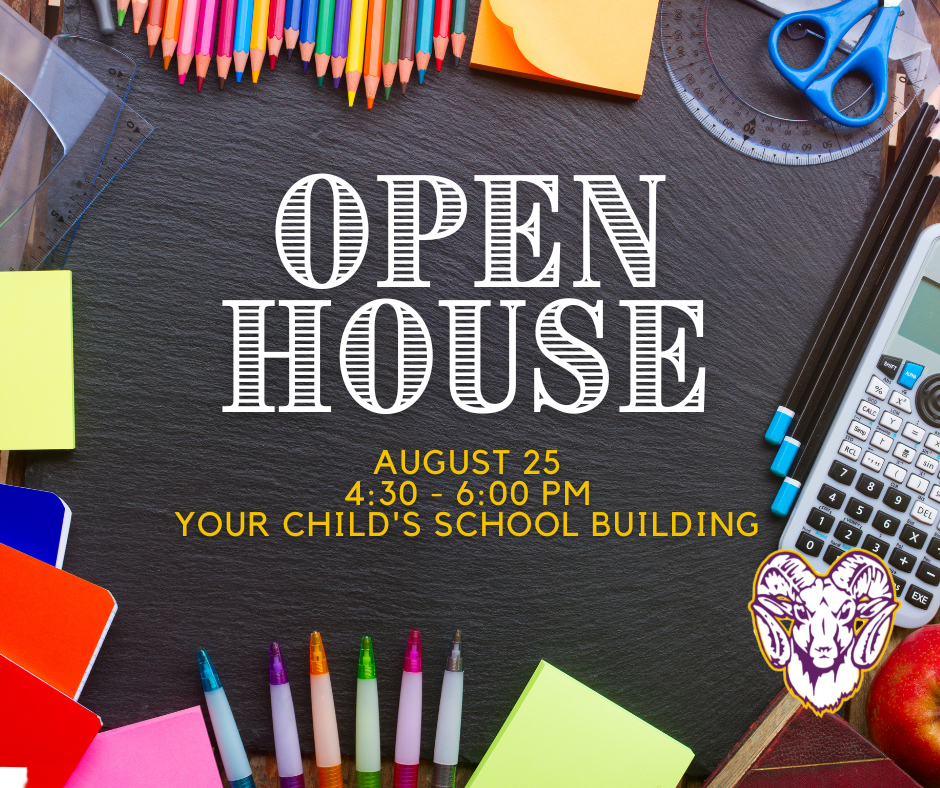 Reminder: South Haven Summer Boys Basketball Camp is August 15-18. See the flyer for more information.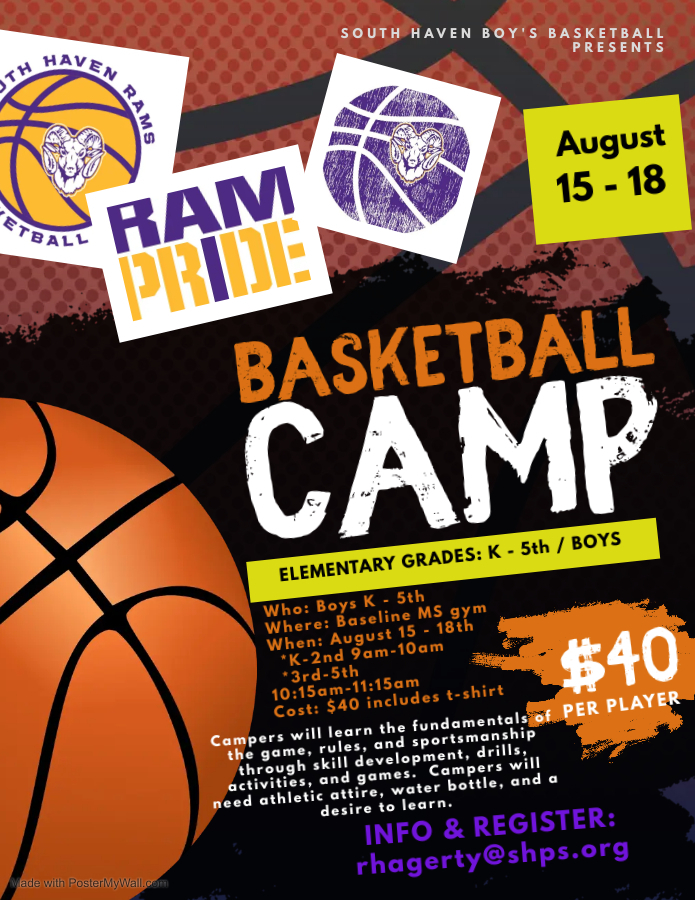 UPDATE: Breakfast hours at South Haven High School have been extended to 7:45 AM - 9:00 AM, Monday through Friday! Don't miss this delicious daily meal. Full summer offerings can be found on our website at
https://www.shps.org/article/768049

SOUTH HAVEN GIRLS BASKETBALL CAMP WHEN: Tuesday, July 19 - Friday, July 22 WHERE: South Haven High School Gym WHO: Grades 1-4 -- 8:30-10:00 am Grades 5-8 -- 10:00-11:30 am COST: $40 per player, includes a camp shirt. Please make checks payable to SHPS. SIGN-UPS: Please RSVP to Coach Shiron Williams at
shiwilli202020@gmail.com
with name, grade and shirt size. Money and registration will be done at the door on the first day of camp.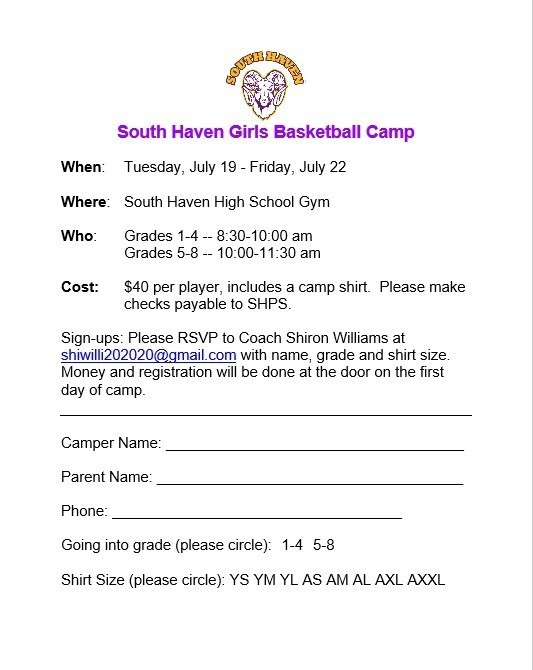 Summer Hours for the Administration Building 554 Green Street June 13 - August 5 M: 8:00 - 4:30 PM T: 8:00 - 4:30 PM W: 8:00 - 4:30 PM TH: 8:00 - 4:30 PM F: 8:00 - 12:00 PM