Reminder: Tomorrow, Wednesday 11/17 will be a half day. Students will be dismissed at 12:10, lunch will be served.

Rams Aquatic Club will not practice tonight (Tuesday, 11/16) due to a staff shortage.

Our current lunch menu through Thanksgiving Break.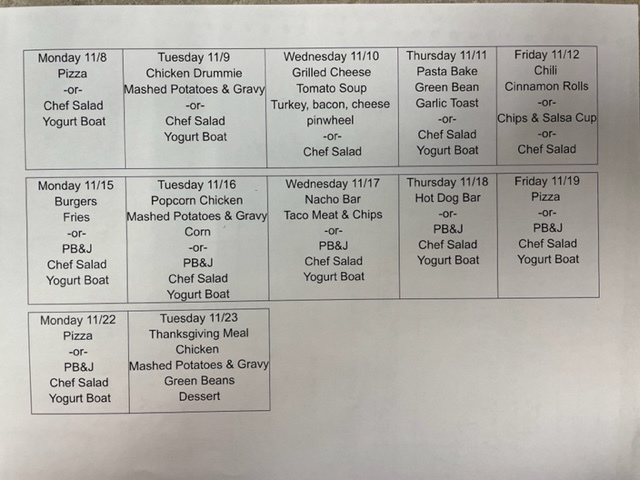 Is your child interested in drama and theater? Please see the following message from Our Town Players: Want to be in an Our Town Players Production but have never been a part of a play? Have no fear! Our Town Players is having an audition workshop for those that have never been in a play. Monday, Nov. 8th at 5:30 at Lincoln Elementary, room 105. RSVP through our Facebook page - Our Town Players of South Haven
Friday, 11/5/21: This will be a 1/2 day of school. North Shore will dismiss at 12:10 pm. Parent/Teacher Conferences will be from 12:30pm-3:30pm. Thank you!
Thursday, 11/4/21-Looking forward to seeing parents tonight! Conferences are 5:00-8:00pm. Thanks!
Parent Teacher Conferences tonight at North Shore, Wednesday 11/3/21, 5pm-8pm. Looking forward to catching up with parents!
Do you have a Lego lover? Check out his awesome way to have some fun and raise money for WE CARE.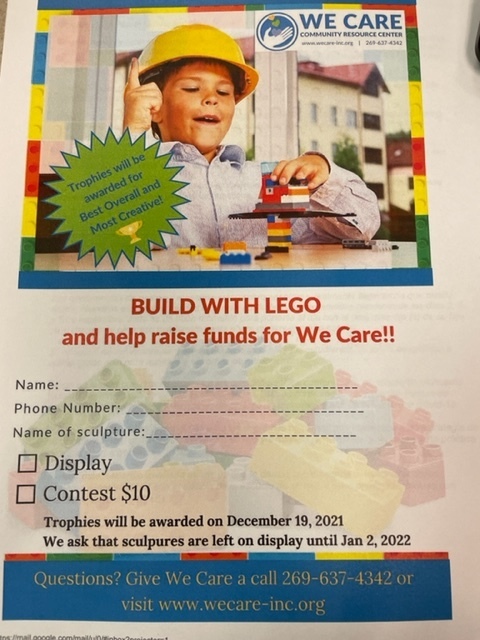 Please see the following message regarding conferences Wednesday, Thursday, and Friday.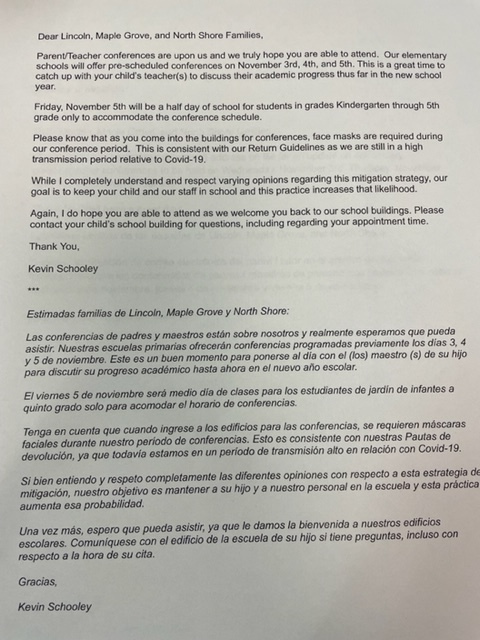 Our Walk/Jog-a-Thon took place last Thursday.  Students had a great time and the weather turned out beautifully.  Students now have until November 12 to turn in the money that they have earned.   Looking forward to sharing the total after next Friday. Last friday was the end of the 1st marking period.  This week we have Parent/Teacher conferences on Wed and Thursday from 5-8 pm.  On Friday we have a 1/2 day of school, dismissing at 12:10 with PT conferences from 12:30-3:30.  You will receive your child's report card at conferences.  Reminder-masks are required at PT conferences. Thanks!
Information on the Before and After School Program, beginning November 15th. If you have any questions, please contact YDC.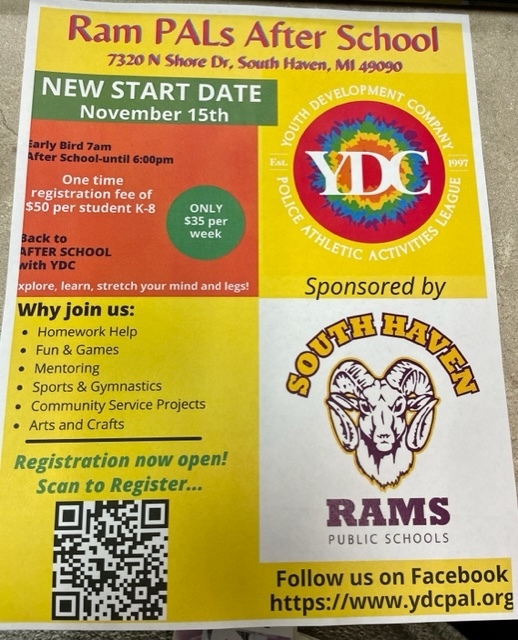 Reminder-Halloween Parties tomorrow, Friday, Oct 29. Parties are spread throughout the day due to a busy schedule. If your child wears their costume to school, it should not affect or prohibit them from participating in class, related arts or PBIS Rewards. The parties tomorrow are a small part of our day. No parents at the parties-Sorry!
Walk/Jog-A-Thon today: Only 20% chance of rain today-fingers are crossed! 4th grade will be 1:30-2:00 on the bus parking lot. 5th grade will be 2:30-3:00 most likely on the soccer field. Parents are welcome to attend if we are outside. IF we are inside, parents may not attend-Sorry!
The lunch menu for November 1st-12th.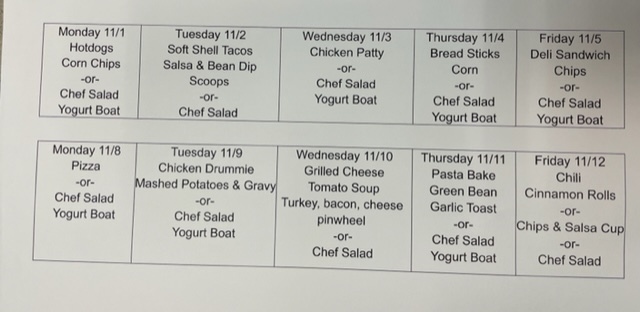 Walk/Jog-A-Thon!!!! Taking place this Thursday(10/28). If it is raining, it will be inside. All pledges need to be turned in by the end of the day on November 12! Thanks for supporting our fundraiser. We appreciate it!!!!
Halloween Parties are this Friday!!! Classroom parties times will be communicated by your child's teacher. **Costumes can be worn during the day if it does not interfere with other school activities(PBIS/Band/Orchestra/Phys. Ed, etc) *School appropriate *No questionable props(knives/axes/guns/swords) **Party times are up to teachers' discretion and this will be communicated to parents by individual teachers **Due to Covid transmission rates at this time, parties are for students only
The lunch menu for this week!

The Annual Walk-Jog-A-Thon is right around the corner! Students received the permission slip last week, and collection envelopes are coming home tomorrow.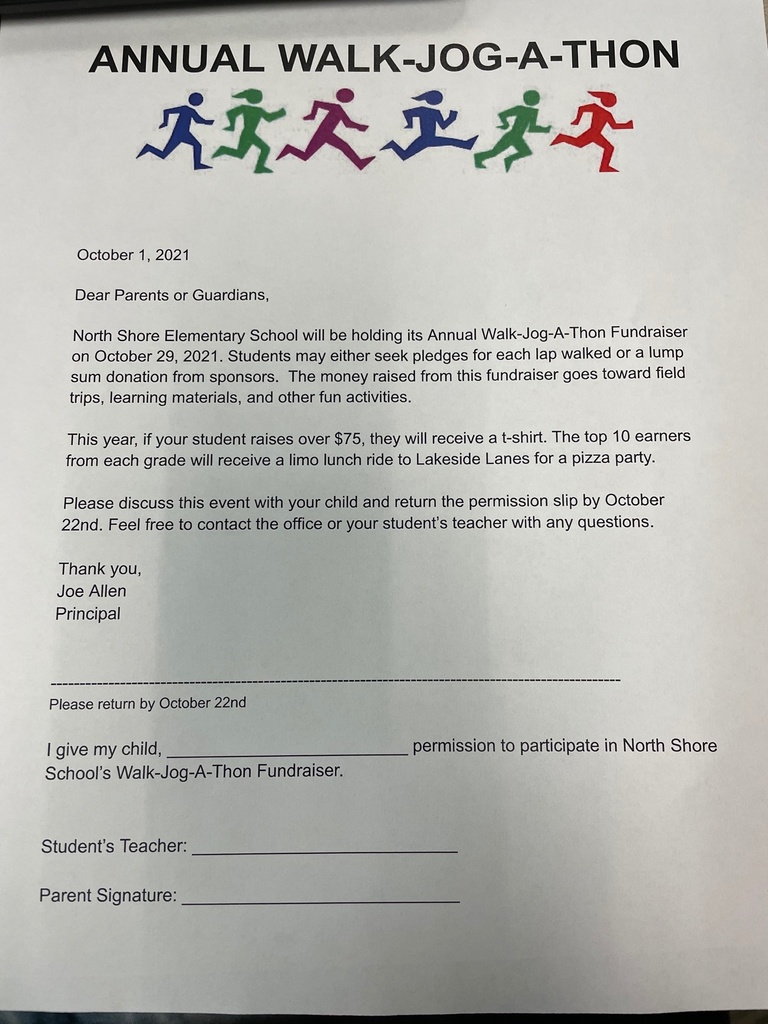 It is Book Fair time! Students can browse the book fair this week, and starting next week they can shop! Each class has scheduled time to shop, three times next week. Check the flyer for more information!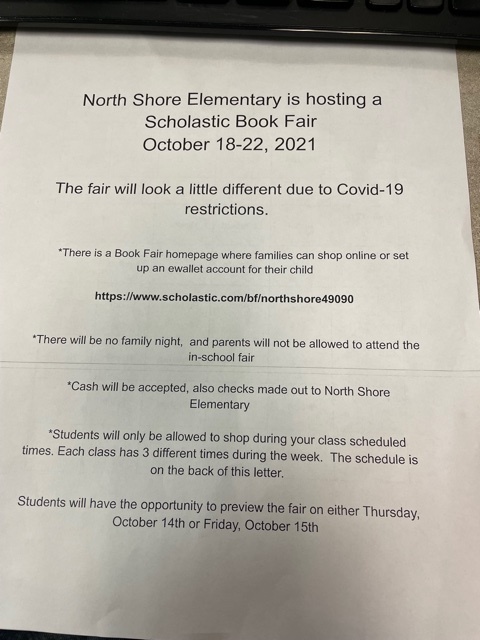 Just a reminder that Little Lady Rams Basketball Signups are today (10/13) and tomorrow (10/14) in the South Haven High School Cafeteria from 4:30 - 6:00 pm. The Program is available to girls in Kindergarten thru 5th grade. Cost is $50.00 per kid. Checks should be made out to South Haven Athletics. Contact: Shiron Williams at
shiwilli202020@gmail.com
if you have any questions.