5th grade Band/Orchestra fittings will take place on Tuesday, September 14 at North Shore. This will happen during the school day from 9am-12pm.

Reminder - tomorrow, Friday, September 3rd and Monday, September 6th, there will be no school for all students, district-wide. We look forward to welcoming you back on Tuesday, September 7th. Have a great Labor Day Weekend!
Hello Parents-We have had a great opening week and we look forward to getting to Week 2. Reminder that there is no school on Friday, September 3rd and Monday, September 6th. We will resume school on Tuesday, September 7th. Reminder, doors open at 8:30 am. Please don't drop your child off prior to this time. There is no supervision until the doors are opened. From the entire staff of North Shore, we hope you have a wonderful Labor Day Weekend.
Hi Parents-Day 1 was a huge success! Day 2 will be even better. Reminder, students only on Tuesday, August 31st. Car riders should be dropped off in the car lane between 8:30 and 8:45. Whether you are dropping off or picking up, please follow the signals of the adults as we work to safely get your students in and out of cars. Thanks!
Hello North Shore Parents-We are really looking forward to Monday and getting the school year started.  1.  Doors open at 8:30 on Monday morning. 2.  If your child is a car rider, please use the the drop off lane in front of NS.  If your child is walking from the parking lot, remind your child to use a cross walk and keep eyes up. 3.  If your child is a bus rider, please have your child at the bus stop 10 minutes early as our drivers will need a couple of days to get the routes mapped out correctly and efficiently. 4.  At this time, based on the CDC guidelines, masks are required in school and on buses. Have a great weekend and I will see you on Monday.
Here is the info for what used to be Rams' Retreat. It is now called Ram PALs and is being run by YDC. It will still be housed at North Shore Elementary. Please note, this program is for any South Haven student who is 5-12 yr olds.
1st Day of school is Monday, August 30. We will open the doors at 8:30 am. Car riders should be dropped at the main entrance. Pull up as far as possible to the second crosswalk(right by the playground). Please follow the signals from staff members and watch for students crossing at the cross walk. Bus riders-Keep in mind that you should be at your bus stop 10 minutes prior to the assigned time. The first couple of days may take drivers longer to run the route, but they will get figured out as soon as possible. Thanks in advance for your patience during the 1st couple of days.
Open House at North Shore on Wednesday, 8/25/21 **4:30pm-5:15pm-Last name starting with N-Z **5:15pm-6:00pm -Last Name starting with A-M **Masks are mandatory for all K-12 students and visitors **Looking forward to seeing families on Wednesday!

Open House: Wednesday, August 25th Last Names N-Z: 4:30 PM—5:15 PM Last Names A– M: 5:15 PM—6:00 PM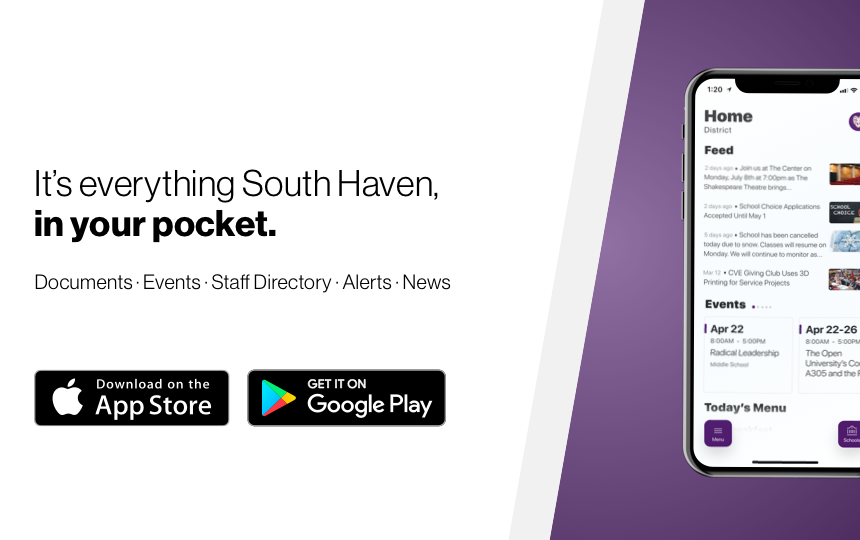 Thank you for meeting up and eating up this summer. It was a pleasure to serve you! Please note this Wednesday, August 11th, will be our last food distribution/curbside pick up for the summer. We look forward to serving you, again, during the school year!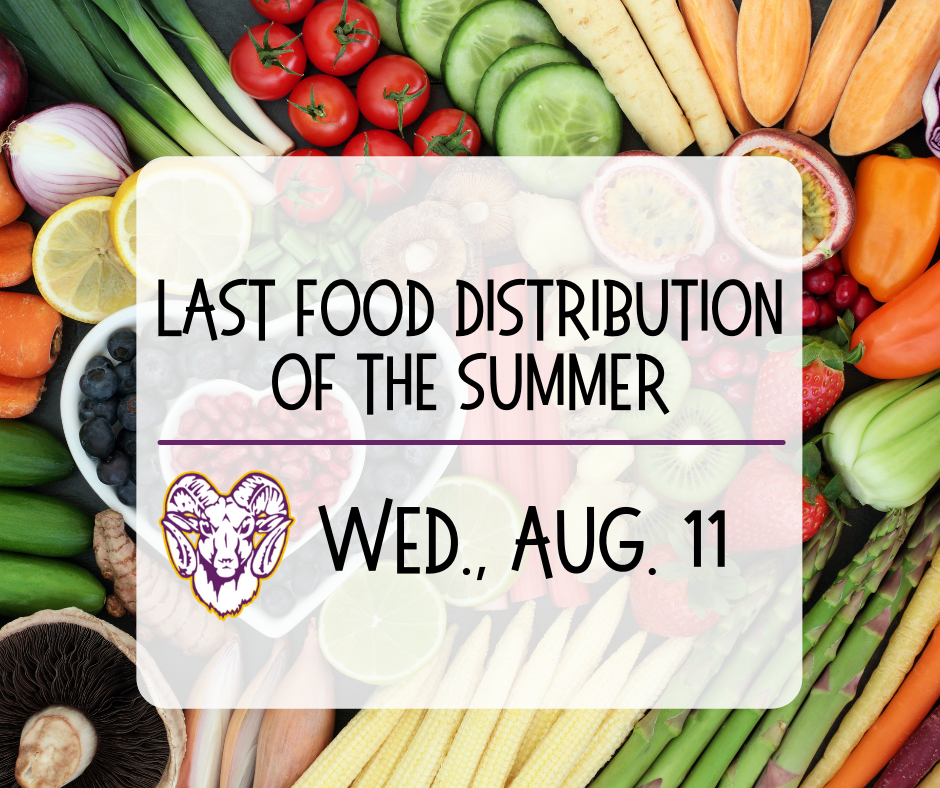 Our Summer Migrant Education Program came to a close earlier this week! Students made amazing bounds educationally and had a TON of fun with field trips to the Van Buren State Park, Holland Aquatic Center, Michigan Maritime Museum (including a boat ride on the Lindy Lou) and with a wonderful Family Night! Thank you our students, staff, volunteers, and community partners for making it another great year!

Mark your calendars! The first day of school for students: August 30, 2021. See here for start and release times:
https://5il.co/v9xe


Don't miss this week's food distribution, tomorrow, Wednesday, July 7th which contains 7 breakfasts and 7 lunches! *Be sure to check out the daily offerings in select locations noted as well. Please contact June Altom, Nutrition Services, with questions at (269) 637-0590 or
jaltom@shps.org
.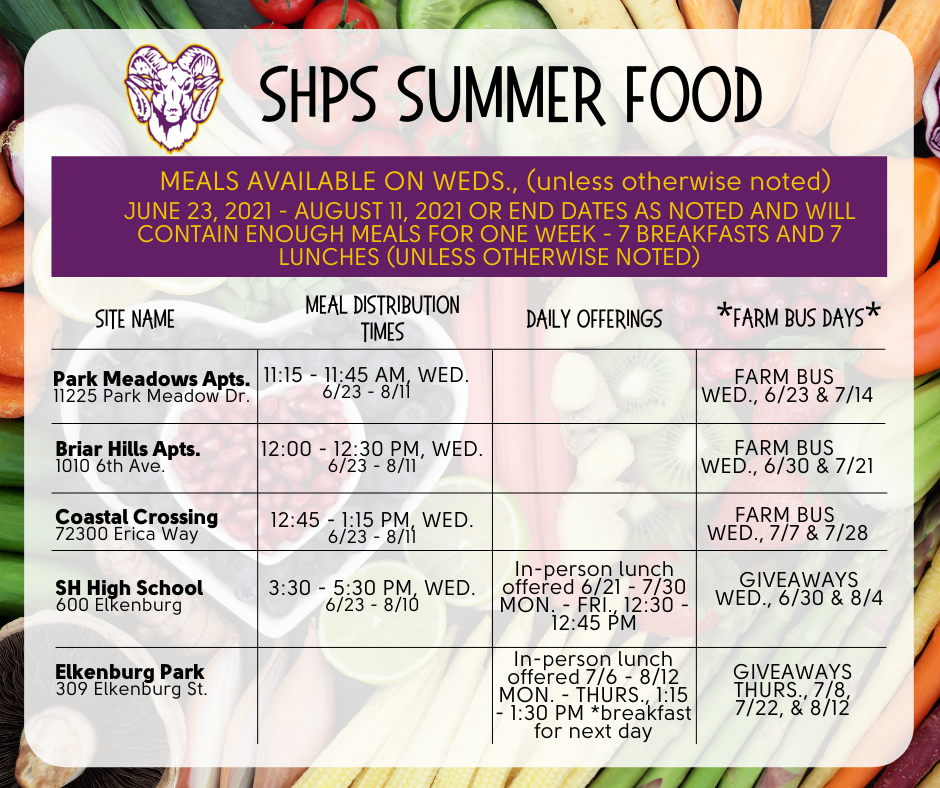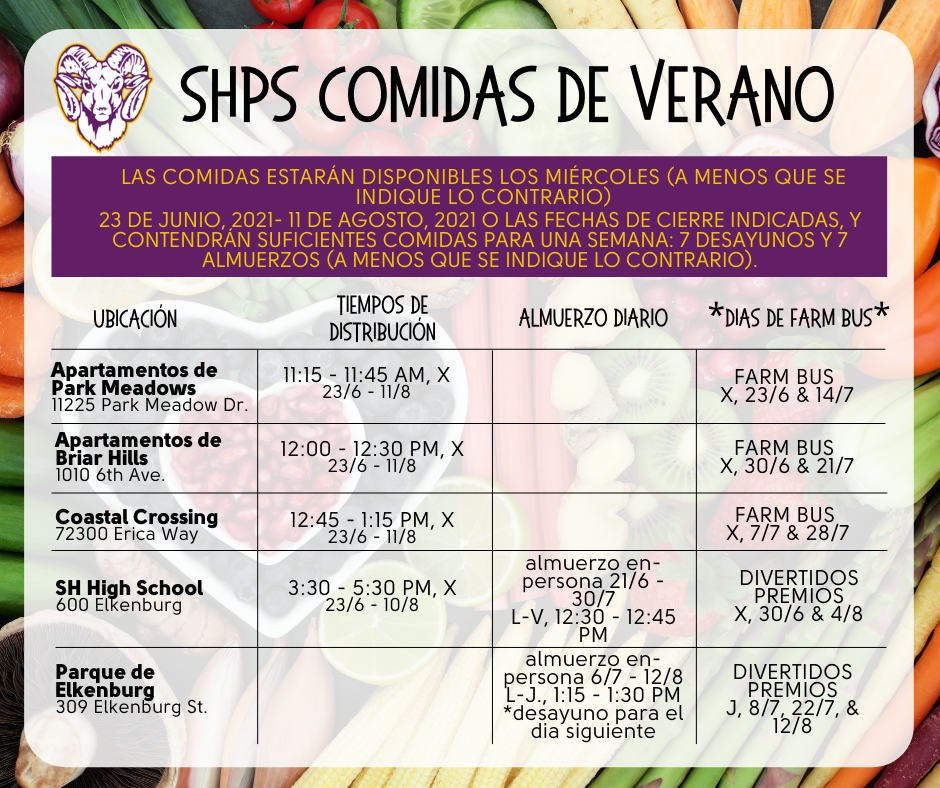 Reminder - No migrant program or summer school on Monday, July 5th! See you on Tuesday.